Hello, my name is Marianne.
When the 4. International Sketchnote Camp in Brussels was postponed in 2020 due to Covid, I thought: how about we meet online? That was the birth of Sketchnote Connect and here we are, in 2022 meeting at Sketchnote Connect for the third time!
How I became part of the Sketchnote Community
In February 2016, I wanted to do something creative and participated in a free course called #28toMake where every day you got a different idea to draw and craft. These projects were my first posts on instagram and later I stumbled apon an online meetup about Sketchnotes. Everyone was so friendly, open, talented and gave support and encouragement to each other. We kept meeting and drawing together, I started to create sketchnotes at the agile conferences I went to and taught workshop on how to draw simple icons. At some point Rob Dimeo pinged a few of us via Twitter DM and asked: hey, Katharina will visit me here in Maryland, you want to come as well?
So I jumped into a plane and met these most wonderful people #IRL (in real life). Steve Silbert invited me to teach my workshop at his workplace, I was part of a panel that Prof Mike Clayton organized and then we spend 2 days learning from each other. It was a blast!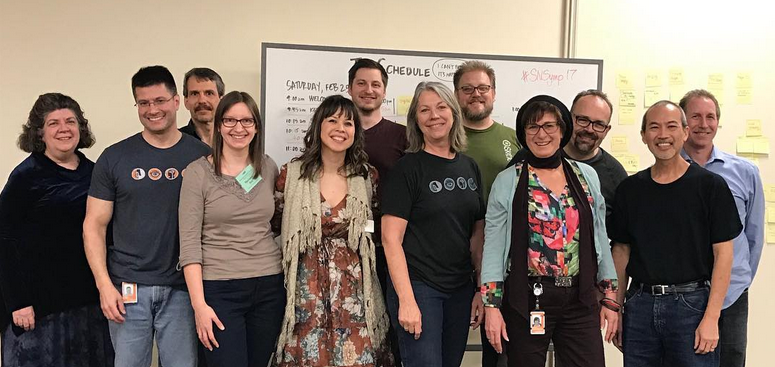 Here we all are! Karen (@kforkish), Rob (@doodlingphysicist), Alan, Me, Catharine (@catharinemisook), Lorraine (@kasyan.lorraine), Mike (@profclayton), Katharina (@ktb_visual), Mike (@rohdesign), Gary (@pastorgarylau) and Steve (@stevesilbert).
Mike Rohde interviewed me for his Sketchnote Army podcast about how I connected my sketchnoting to my work as a (then) scrum master.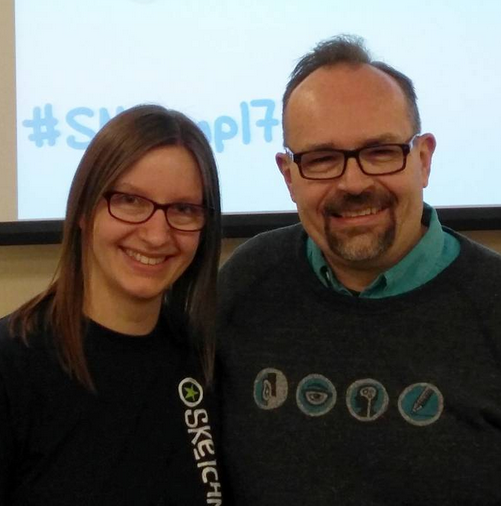 What started with this first meeting in the USA, became an evergrowing community of sketchnoters who meet once a year. I was honored to be part of the organizing team of the 1. International Sketchnote Camp in Hamburg in 2017 with Andrea Brücken @dieHauteCulture, Diana Soriat @DianaSoriat, Katharina Theis-Bröhl @theiskbt (picture below) and attended the 2. International Sketchnote Camp in Lisbon in 2018 #ISC18LX , the 3. International Sketchnote Camp in Paris in 2019 #ISC19FR and the 4. International Sketchnote Camp #ISC21BE which took place online, hosted from Brussels.